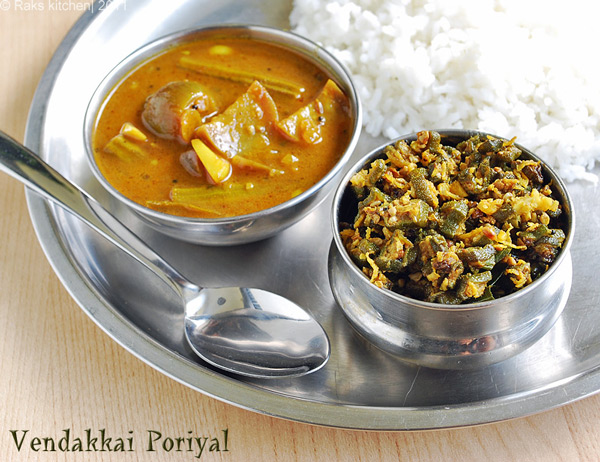 Vendakkai poriyal/ ladies finger poriyal is the one I love to mix and eat with rice and sesame oil/ghee. It needs some time and patience for cutting and sautéing the ladies finger/okra. But I love it so much to do and as well as eat. When I was new for cooking, it used to mess up with this without knowing the technique. Now I think I can make it easily and wonder how I messed up with this easy recipe.
I used to be a very bad eater until I finished my school. And when it comes to vegetables, my mom sure had a tough time making me eat . I never touch the accompaniment vegetable in my plate. My mom do all the possible things to make me eat, like she always mixes the vegetable accompaniment like poriyals, kootu and all those with a small portion of rice and ghee and before sambar or any gravy with rice, I have to eat that. Now also after I came here and left alone, I rarely eat veggies since no one is there to question me. And now a days I tell myself that I should take care of my health only myself and try do the same what my mom used to do and hope to continue this.
Vendakkai poriyal recipe
Recipe Cuisine:
Indian
|
Recipe Category:
Lunch sides
Prep Time
:
15 mins
|
Cook time: 20 mins
|
Serves
:
3
Ingredients
Ladies finger/vendakkai - ½ kg
---
Sambar powder - 1 tsp
---
Turmeric - ⅛ tsp
---
Coconut, grated - ⅛ cup
---
Salt - as needed
---
Sesame oil - 2 tblsp
---
To temper
Oil - 1 tsp
---
Mustard - ¾ tsp
---
Urad dal - 1 tsp
---
Curry leaves - 1 sprig
---
Method
Heat the pan/kadai with oil and temper with the items given under the 'To temper' table. Add the finely cut ladies finger(refer notes) and keep frying for 6-8 minutes in medium flame, stirring in between. Add sesame oil generously to reduce the stickiness. At a point the volume will reduce and the colour changes to transparent green.

Now add salt, turmeric, sambar powder and mix well. Lastly add the coconut and fry for a minute. Transfer to the serving bowl.
Notes
Wash the ladies finger and pat dry them well before you cut. No water should be there in the ladies finger. It is better to wash and dry them prior so that no moisture is there. Check for old ones by breaking the tail end of the ladies finger. If it breaks crisp, then you can use it. Otherwise discard. Cut the head and then slice them in to thin circles.
When you start frying, the ladies finger will be sticky for a while, so do not panic,just add sesame oil and fry. Sesame oil is good for health so don't bother adding it generously.
Once the ladies finger gets cooked by adding frying it with oil the stickiness will be almost reduced and then too after adding sambar powder it will completely go off.
Just make sure you fry the vendakkai properly in oil and cook it until colour changes to a transparent green.
Serve as an accompaniment for rice with sambar or any gravy. I had with brinjal/drumstick kuzhambu. Yum yum!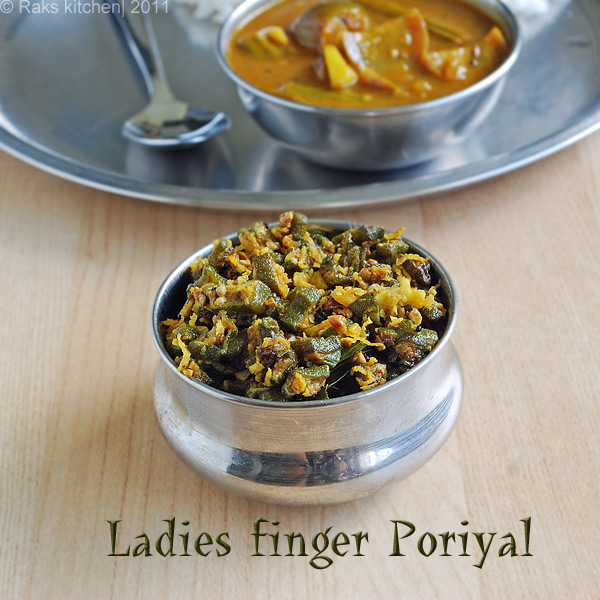 SIMPLE DAL TADKA RECIPE WITH MOONG DAL
This is a simple tadka dal recipe which you can make in jiffy for a comfort meal. Goes well with steamed rice and a North Indian subzi. Me and my kid eat this very often. I love it with basmati rice the best! The garlic adds a great flavour to the dal. Do try you will simply love it! Being a south Indian, our festive meal will always have paruppu, which we cook moong dal or toor dal with turmeric and temper with mustard urad dal, asafoetida, green chillies and curry leaves. It is the simple and best dal which has completely different flavour. But I love that too with rice and ghee. But this one is quite different and flavorful.
Ingredients
Moong dal/ paasi paruppu - ½ cup
---
Tomato - 1
---
Red chilli - 1
---
Turmeric - ⅛ tsp
---
Salt - As needed
---
To temper
Ghee - 2 tsp
---
Jeera/cumin seeds - 1 tsp
---
Red chilli - 2
---
Garlic - 4 pods, crushed
---
Coriander leaves,
finely chopped - 1-2 tblsp
---
Method
1. Pressure cook moong dal with chopped tomato, turmeric and one red chilli for 3 whistles. Once done, mix salt to it and temper with the items given under to temper table in order. Make sure you fry the garlic until golden brown for a nice flavour.


Serve with hot steaming rice with any vegetable sabzi!