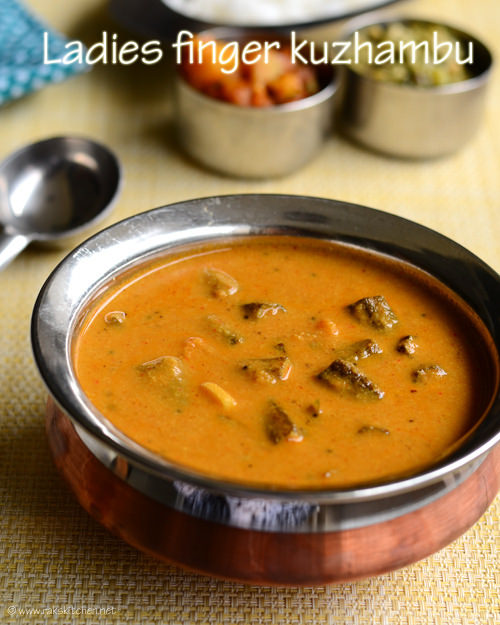 Learn how to make vendakkai puli kuzhambu, south Indian tangy thick gravy with ladies finger, perfect for eating along with rice.
I first need to thank a reader who took time and sent me this vendakkai puli kulambu recipe. I have few reader friends who send their recipes to me for trying and posting in my blog. I have many like that in my inbox folder. Last month when I could not come to a clear decision what to try, I went through this folder and saw this vendakkai puli kulambu recipe from Sangeetha sekar which was apt for me to try for blog as well as for my lunch. She sent this long time back, its only now I got the right time. It was yummy and different from our usual way of cooking as vendakkai is cooked in a tangy gravy with tomato, tamarind and also added coconut in it.
Check out my
vathal kuzhambu recipe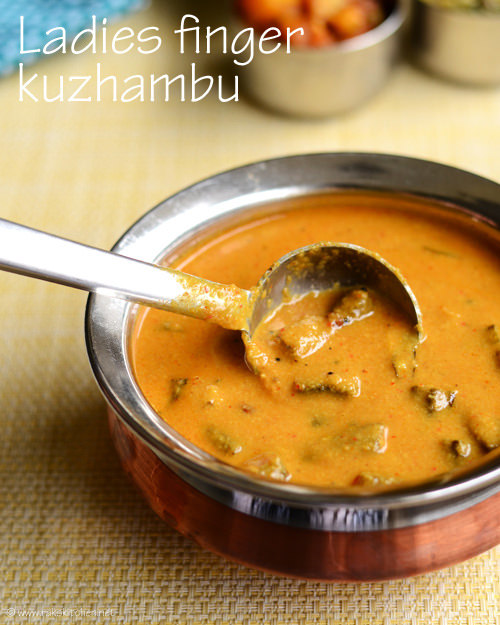 Vendakkai puli kulambu recipe
Recipe Cuisine:
Indian
|
Recipe Category:
Lunch
Prep Time
:
30 mins tamarind soaking time
|
Cook time: 20 mins
|
Serves
:
4
Learn how to make vendakkai puli kuzhambu, south Indian tangy thick gravy with ladies finger, perfect for eating along with rice.
Ingredients
Ladies finger – 12 young, tender
---
Tamarind – 1 teaspoon tightly packed
---
Sambar powder – 2 teaspoon
---
Turmeric powder – ¼ teaspoon
---
Sesame oil / Oil – 2 tablespoon
---
Salt – As needed
---
Garlic – 3 flakes
To sautee in oil and grind
Shallots (Small onion) – 12
---
Tomato – 2
---
Coconut – ½ cup
To temper
Oil – 2 tblsp
---
Mustard – ½ teaspoon
---
Fenugreek seeds / Vendhayam / Methi – ½ teaspoon
---
Curry leaves – 1 sprig
Method
Cut ladies finger into one inch pieces. Peel small onion, roughly cube tomato, slice garlic into thin circles. Soak tamarind in ½ cup hot water for 30 mins, extract the juice with another ½ cup of water. Keep aside. In a kadai, add a tablespoon of sesame oil and fry the ladies finger in medium flame stirring every now and then until the slime goes away and black spots appear here and there. Keep aside. In the same kadai, fry peeled small onion. Add oil if needed.

Once onion turns transparent, add cubed tomato.

Once tomato becomes soft, add coconut and fry for a minute. Transfer to a plate.Let it cool down.

Mean while, Heat oil for tempering, temper with the items given under 'To temper' table, add sliced garlic. When garlic is fragrant, add the sauteed ladies finger.

Add extracted tamarind juice, and adjust water so that totally its 2 & ½ cups of water. Add turmeric, sambar powder, salt and mix well. Simmer for 8 mins.

Meanwhile grind the sauteed onion, tomato, coconut with little water to a paste. Add it to the boiling gravy along with little water.

Boil for 3 more minutes and until the gravy is thick. It thickens a bit after cooling down, so switch off accordingly.
Notes
Since we add tomato as well as tamarind, add sambar powder or red chilli powder as mentioned, otherwise it will not be balanced since we are adding coconut too.
If you don't have sambar powder, just replace with red chilli powder as the original recipe calls for.
Serve with rice and if desired, sesame oil or ghee on top.

Tags: vendakkai puli kulambu recipe,vendakkai puli kuzhambu recipe,tasty,puzhi,kulambu,ladies finger kulambu,with coconut