Vendakkai sambar recipe, Ladies finger sambar – Basic south Indian sambar recipe as we do in Tamil nadu. Sambar is an everyday staple for Tamil lunch menu. I am a big fan of vendakkai
sambar
. My mom makes it perfectly and she even says it is perfect for beginners in cooking as it comes out easily tasty, how ever you do small mistakes. I too feel its the easy and never fail sambar recipe. Well but I think it depends on personal taste too. I love this sambar so it comes out well every time without fail. I am a big fan of this sambar mom makes. It will be spicy and mild tangy. And gets ready soon when compared to my MIL's version. I will post another sambar recipe using her sambar powder and method. I wanted to post basic sambar recipe here in my blog, as it would be helpful to many who are learning to cook south Indian cooking.
And also ladies finger needs special treatment before adding to sambar, so I thought I will post this basic sambar recipe using my mom's
sambar powder
with vendakkai. I made this long time back and kept this in draft postponing. Today, while many of you enjoying Biryani (Eid Mubarak! 😊) here is a simple humble sambar recipe.
Since this is basic recipe, I want to share some of the basic details for beginners.
Toor dal – split pigeon pea – thuvaram paruppu used mainly in lunch sambar recipes.
Vendhayam – fenugreek seeds – adds flavour for sambars.
Few drops of Sesame oil is used while cooking toor dal for making it cook soft, easy and quick.
Sesame oil is used to sautee (pre cook ladies finger) to get rid off the slimey nature.
Ladies finger – vendakkai – okra – should be added after sauteeing to avoid the smiley nature.
I have used my mom's sambar powder: https://www.rakskitchen.net/2013/06/2-sambar-powder-recipe-homemade-sambar.html, you can use store bought sambar powder too.
For perfect sambar, dal should be good quality and cooked well.
Using tomato is optional in this recipe.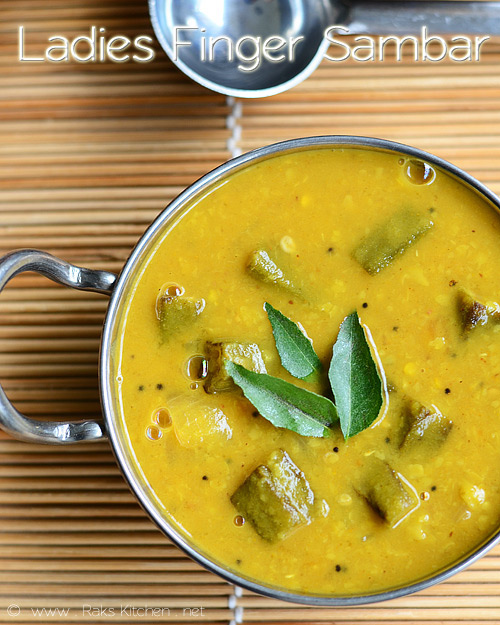 Vendakkai sambar recipe
Recipe Cuisine: Indian | Recipe Category: Lunch
Prep Time: 15 mins | Cook time: 20 mins | Serves: 4 approx. | Author: Raks anand
Click here for cup measurements
Vendakkai sambar recipe, Ladies finger sambar – Basic south Indian sambar recipe as we do in Tamil nadu. Sambar is an everyday staple for Tamil lunch menu.

Recipe ingredients:
Toor dal (Thuvaram paruppu) – ½ cup
Water (for dal) – 1 cup + ¼ cup
Tamarind – 1 tbsp tightly packed
Ladies finger – 12
Sesame oil – 1 tbsp
Water – 2 & ¼ cup
Onion – 1
Tomato (optional) – 1
Green chilli – 4
Sambar powder – 1 tsp
Turmeric – ¼ tsp
Curry leaves – Few
Asafoetida – 3 generous pinches
Salt – As needed
To temper
Oil/ ghee – 2 tsp
Mustard – ¾ tsp
Fenugreek seeds/ vendayam – ½ tsp
Jeera (optional) – 1 tsp
Asafoetida – ¼ tsp
Curry leaves – 1 sprig

Method
Soak tamarind in hot water. Pressure cook dal with water for 4 whistles. Clean and pat dry ladies finger with a clean kitchen towel. Cut into 1 inch pieces. Cube onion, tomato (if adding) and slit green chillies.

Heat kadai and add the cut ladies finger and fry with sesame oil, until black spots appear over its ridges and the slimy thing disappears. Add more oil if needed. Fry in medium flame, stir occasionally in between to avoid burning.

Once done, keep that aside and add oil or ghee for tempering. Add mustard, after splutter, add fenugreek seeds followed by jeera. Add asafoetida and then curry leaves. Add onion, fry till transparent and then add green chilli.

Add tomatoes and fry for a minute. Transfer to a vessel in which you are going to prepare/ boil sambar. Meanwhile, you can extract tamarind juice and add water so that the tamarind juice is 2 and ¼ cups. Bring to boil, add fried ladies finger.

Add turmeric, sambar powder, asafoetida and salt. Boil until the ladies finger gets cooked. Roughly mash the cooked dal with a ladle.

Add dal to the boiling sambar and boil for 2 minutes or until the required consistency arrives. Lastly tear some fresh curry leaves and mix.
Notes
Using white variety tamarind (pudhu puli) is recommended for sambar as its not too tangy and has a mild sweetness.
My mom ads a pinch of jaggery for everyday sambar, which enhances the taste.
Adding asafoetida at two stages gives more flavour, but you can use just for tempering alone. Sambar mainly depends on the asafoetida flavour, so be generous adding it.
Adding ghee to sambar adds more taste and flavour to the sambar.
Sambar gets slightly thick when cooled down, so switch off the flame accordingly.
Sesame oil is helpful to remove the slimy thing in the ladies finger also its good for health.
Tags:vendakkai sambar, ladies finger, okra, south indian, sambar
Ladies finger sambar ready , top with a tsp of ghee over along with hot steamed rice, perfect for your lunch!