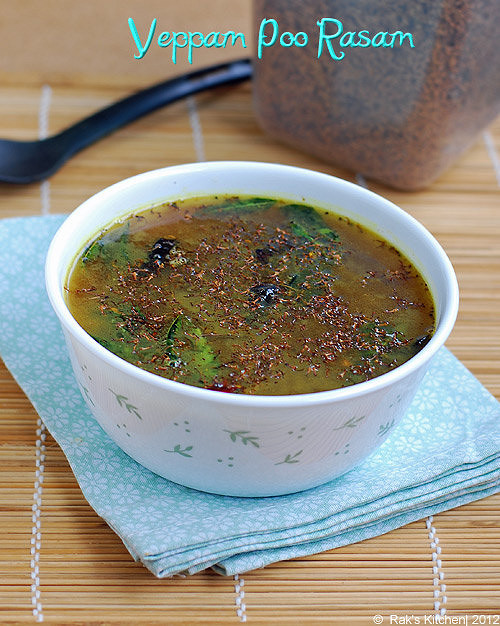 Neem flower
rasam
/ Veppampoo rasam is one which I used to hate. Mom always insists to add some bitter taste in diet at least once in a week or month. But never followed her words…;) She every time collects neem flower from our backyard(tree) and preserves and pass to me. But I keep it in Chennai itself and come. This time when I saw the neem flowers given by her in Chennai, I felt bad and Vj too asked me to take it and try some thing with it. So I took and came to SG. I took the recipe for rasam from her and it sounded damn easy! I decided the very instant to try this out.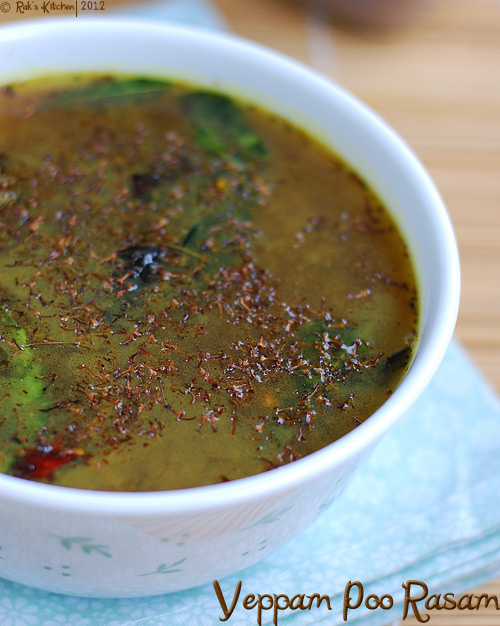 Actually we make it specially for Thamizh new year. We make mango pachadi, neem rasam compulsorily as its meant to include all the tastes-sweet and tangy taste from mango pachadi, salt and bitterness from this neem rasam, on the very first day of Tamil new year, so that we can be prepared for all the situations in our life throughout the year. So I thought of making and posting here. This year we have no celebrations as my paati passed away. The moment I made this rasam, the whole house was filled with aroma, and I was so tempted to eat rice with the rasam immediately. It tastes and smells great! And above all its good for health. I do have a thogayal recipe with neem flower, will post that soon as well 🙂
Veppam poo Rasam recipe
Recipe Cuisine:
Indian
|
Recipe Category:
Lunch
Prep Time
:
5 mins
|
Cook time: 20 mins
|
Serves
:
3
Ingredients
Neem flower (veppam poo) – 1 tblsp
---
Tamarind – Gooseberry sized
---
Salt – As needed
---
Sugar – 1/2 tsp
---
Turmeric – 1/8 tsp
---
To Temper
Ghee – 1 tsp
---
Mustard – 1 tsp
---
Red chillies – 4-5
---
Urad dal – 1 tsp
---
Toor dal – 1 tsp
---
Curry leaves – 1 sprig
---
Asafoetida – 3 pinches
---
Method
Extract tamarind juice, keep aside. Heat a pan and roast the neem flower until u can smell a nice aroma and turns deep red.Keep aside. Add ghee in the pan and temper with the items given under 'To temper' table. Add the tamarind extract,salt and turmeric.
Bring to boil. Switch off the stove and add the roasted neem flower and mix well.
Notes
Roast the neem flower carefully in medium flame until nice aroma rises.
Do not boil after adding the neem flower.
Stays good for 2 days even, if kept refrigerated!
When I finished making the rasam, the whole house was filled with aroma! I could not resist the smell of the rasam…! A healthy rasam is ready!