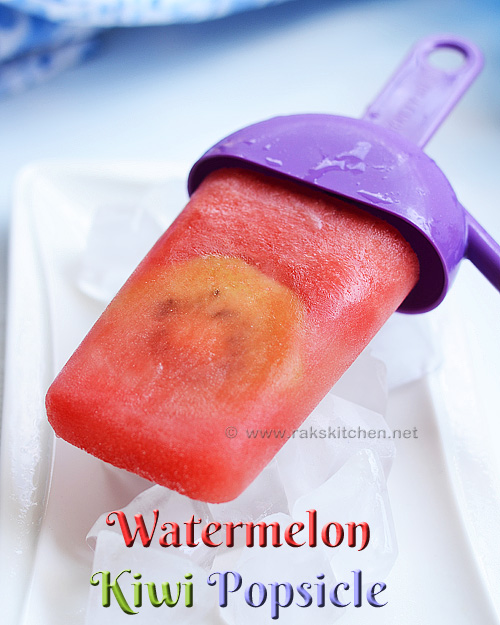 Water melon and kiwi are two different texture, tasting fruits. I love watermelon and kiwi, so when I saw a picture in Pinterest while browsing and really loved the look of the popsicle. I was not sure about the taste. Last year itself I tried this combo but could not click. This year I tried and it was tasting really amazing as well. Aj is not a big fan of fruits, but he liked it this way in popsicle form. I too loved it. With summer in its peak, really feel like having something like this cold as before lunch snack. Kids must be having holidays in India and you will be busy cooking for them. Especially the mid day snack and evening snack is a big task. Popsicles can be very handy as you can make them easily as well as kids would love to have. You can make homemade popsicles rather than buying them and giving those artificial flavor and colored popsicles that are available commercially.
Check out other popsicle recipes :
Grape popsicle
,
kiwi popsicle

,

fun way to eat watermelon

,

rose milk popsicle
,
mango jelly popsicle
Watermelon kiwi popsicle recipe
Recipe Cuisine:
Continental
|
Recipe Category:
Popsicle
Prep Time
:
4 hrs freezing time
|
Cook time: 0 mins
|
Makes
:
4
Ingredients
Watermelon, cubed – 2 cups
---
Sugar – 1/4 cup
---
Kiwi – 1
---
Method
Heat sugar and little water and heat in low flame until sugar just dissolves and make a simple syrup. No consistency is needed. (I used unrefined sugar)

Place roughly cubed watermelon and add the sugar syrup (cooled).

Grind it smoothly. Peel and slice kiwi into thick slices. Fill popsicle moulds with watermelon juice.

Add a slice of kiwi in each popsicle mould. Insert the popsicle handle and freeze overnight.

Show the popsicle mould under tap water for a minute and pull out gently to serve.
Notes
If you want, you can try placing the slice in the top as I have did in my Kiwi popsicle if your mould is cylindrical.
Choose ripe kiwi for sweeter taste. Unripe tend to be tangy.
Add water carefully for the simple syrup as watermelon already is watery.
I loved the flavour of watermelon and half way the kiwi to bite and eat, really tasted good.