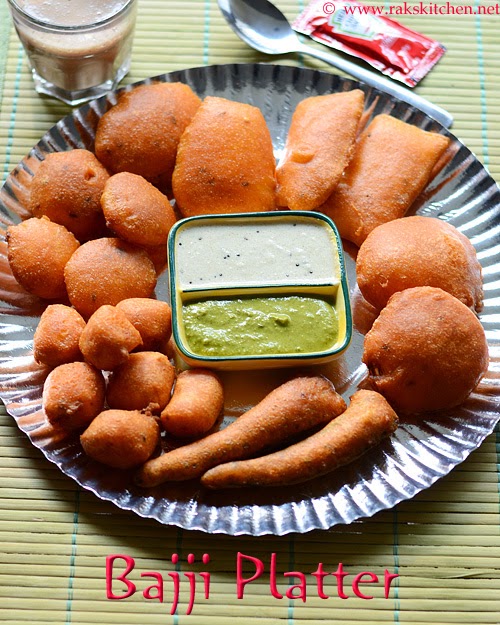 From my childhood, bajji is one of the snacks that mom makes for evening snack when ever the family is hungry. Not that often but when she makes it will be always a Bajji platter like this. Ours was a family of 6 with myself, bro, my parents and grandparents. So it does makes sense to make it as a platter to feed all of us. We skip dinner that day after this, of course. No KFC, no Mc Donalds,no Burger King, no Pizza hut etc; only this home made junk and I am sure all of you will agree this is lot more better when compared to the outside junk food in the restaurants. With fresh vegetables, our own not re-used oil and what else we need to be satisfied. Even MIL makes it as a platter when ever she makes. So this is best and simple snack we can make at home. It will be handy when someone comes home and no need to think too much, 15 minutes preparation time and 20 minutes cooking time. Make a chutney and with a tea/ coffee you can finish it. With world cup going on, try once for your family, friends relatives who visits home and enjoy the match. Though I too make it this way, never thought of posting this, thanks again to Sangeeta my friend for insisting me to post.
I have made potato, plantain, brinjal, onion – the classics and chilli, paneer this time. Potato and paneer is my kid's favorite. Though baby corn is his all time favorite, I had no stock. Onion and plantain are Vj's favorite. Brinjal and chilli is mine 😊.
Other veggies which is not here and can be used in usual conditions are Baby corn, capsicum, palak, cauliflower and also bread. There should be more choices which I don't know, if you know please leave it as a comment.
Here are the links to the bajji/ Pakora recipes I have
Some notes to make perfect bajji
First thing is you need sharp knife to neatly slice the veggies. Onion definitely needs a sharp knife, otherwise before you cut a slice, the rings will be separate.
The vegetables can be sliced thick or thin, but I slice it thin as it is easy to cook.
If the batter is too thick, it will be too dry to eat also gets long time to cook inside. Wont be tasty.
If batter is too runny, it will drink too much oil.
Adding a teaspoon of ghee or a tblsp of hot oil from the kadai to the batter will enhance taste also will drink less oil.
Adding ajwain, jeera and asafoetida will help in digestion as well as flavor to the bajji.
Drink a chaas or hot ginger tea or atleast a cup of hot water for easy digestion in case you over eat.
Need enough oil for the bajjis to puff up nicely.
Have a nice weekend!😊