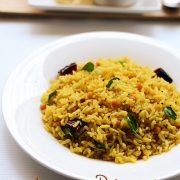 Print Recipe
Puli sadam
Puli sadam with leftover rice. If you love tamarind rice or similar tangy rice variety, you should consider making this when you have leftover rice, but you want it hot in your way!
Left over cooked rice -

3

cups
Tamarind -

1

tbsp leveled
Turmeric -

¼

tsp

Salt - As needed

Curry leaves -

1

sprig
To temper
Sesame oil/ oil -

2

tbsp
Mustard -

½

tsp
Urad dal -

1

tsp
Chana dal -

1

tbsp
Dry Red chilli -

4

Asafoetida -

⅛

tsp
Separate the grains of left over rice. You can add little oil to ease this process, or wet your hands with water and fluff it. Soak tamarind in hot water and extract juice with a cup of water.

In a large enough kadai to hold the rice, temper with the items given under 'To temper' table in order. Add the tamarind extract and salt as needed.

Add turmeric and bring to boil. Add the leftover rice and cook in medium flame.

Cook until all the tamarind extract is blended with the rice and garnish with torn fresh curry leaves.
Mashed up leftover rice wont work for this.
Keep the leftover rice in fridge and use it the next day or when ever needed.
You can add peanuts while tempering if you like, but she did not add.