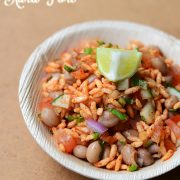 Print Recipe
Beach style kara pori recipe
Learn how to make beach style kara pori hygienically at home. A perfect mixture of all tastes, that you would love to have without any guilt.
Pori/ Puffed rice -

1 & ½

cup
Boiled Peanuts -

½

cup
Carrot-

3

tbsp

Finely Chopped

Onion -

1

Cucumber -

1

small

Tomato -

1

Raw mango-

⅛

cup

finely chopped

Lemon -

1

Red chilli powder -

¾

tsp

Salt - As needed

Coriander leaves -

3

tbsp

chopped
If you are using fresh peanuts, just boil/ pressure cook it with salt and drain water set aside. If using the dried ones, soak for 2-3 hours and then proceed the same way. Finely chop all the veggies and set aside. In a large bowl, place pori and add all the other ingredients except lemon and mix well.

Lastly squeeze in the lemon and toss well. Check for salt, spice and tanginess, everything should be balanced!
Mix everything at the time when you are going to eat/ serve.
Adjust the lemon so that it balances the chilli powder. The lemon flavour and taste is supposed to dominate.
I din't add mango as its out of season, but it will give a nice flavour, do add if you can.
Adjust salt, lemon and red chilli powder according to your taste.