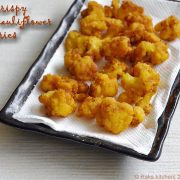 Print Recipe
Crispy cauliflower fries
Crispy cauliflower fries made with rice flour, corn flour and spices. Perfect as snack or as accompaniment for rice.
Cauliflower

1

small

Rice flour

¼

cup
Corn flour

1

tbsp
Red chilli powder

1

tsp

I used sambar powder

Turmeric

2

pinches

Salt As needed

Oil For deep frying
Cut/separate the cauliflower into bite size pieces. Bring water to rolling boil with salt and turmeric. When the water boils, add cauliflower. Let it boil for a minute or two. Put off the flame. Drain the water completely and transfer to mixing bowl.

Sprinkle rice flour,corn flour and salt.(the salt in the water would have not get absorbed in the florets, so now too u have to add. But very less is needed) Mix it well so that the powders coats the cauliflower,or else sprinkle very little water to make it bind together.

Heat the oil and put this mixture in a sprinkled way and cook in medium flame till golden brown and crisp. Stir occasionally in between.
I have used home made sambar powder,in place of red chilli powder.
If you use more of corn flour,then it will turn out hard.
Adding more water makes soft fries, it wont turn crispy.
Eat within 20-30 mins after frying, otherwise it will become soggy.
Cooking the florets (parboiling), is very important, otherwise the flour won't stick to the florets and it will end up in a cloudy oil.(all the flour u use for coating will be in oil)
If water is not added enough, it will result in pale fries, having flour taste in the fries. It also retains oil.