Singapore restaurant review - Zafforn banana leaf, now Pavilion banana leaf an Indian restaurant (Chettinad cuisine mainly) owned by First Gourmet Pte Ltd.
Jump to:
First Gourmet already have four restaurant brands set up in Singapore. Specifically, their first set up restaurant Prata wala Indian restaurant is famous and known for it's is a quick-service, serving delicious and economical food in clean and hygienic environment.
🍛 Indian food
In fact at Singapore we don't miss eating Indian food outside as there is a whole lot of restaurants. Most of the Indian restaurants located in Little India, but throughout the Island, it's very easy to find Indian food. Even food courts have Indian food section mostly because of the Indian population in Singapore.
I take break from my regular cooking, I escape either going for a holiday or eat out. Holiday means definitely it's very hard to find Indian food, so I look forward for eating out once in a while here in Singapore.
📍 Location
The Jurong point branch is officially closed, here's the new branch location at Serangoon Central.
https://goo.gl/maps/dA6x1hfxJHG2r33T9
I went to their previously known Zaffron banana leaf at Jurong Poing for food tasting last week and thought of writing a review here in my blog.
Since I see a lot of local Singapore food bloggers write Singapore restaurant review and very active in all social medias and wish even Indian food bloggers get involved in such activities, promotions and all that.
So thought let me start writing reviews too. But This is not a paid review, just sharing my experience in the restaurant.
I am residing in the east, but the location of Zaffron Banana leaf restaurant is the other extreme end, the west, but I liked the fact that it is around Jurong side, as many a times after visiting Bird park or Zoo, we head to Little India for Dinner.
Now, this is really a welcome change to head on somewhere nearer after a tiring day at bird park or Zoo visit.
Even people around there are already flooding the restaurant, spot even local Singaporeans enjoying the food. I know many of the people here Chinese, Malay love Indian food, both south Indian and north Indian.
🧾 Menu
You can see the updated menu here : https://pavilionbananaleaf.com/menu-page/
The particular day I went for dinner with Aj, we had Gobi 65 and Chilli paneer for starters. Me and Aj both loved the Chilli paneer as it is tweaked a bit to make it different from the usual, with all the spices that make the difference. So it is named as chilli paneer aka Paal katti milakaai piratal). Cost : SGD 9.80
Gobi 65 (pookoso 65) was having flavours packed with flavours and crispy. Cost : SGD 7.80
These two are the only vegetarian starters from South Indian sections, while we have two more form tandoor section for vegetarians.
We were offered to choose drinks from the wide variety of menu ranging from SGD 2.50 to 6.
Includes the local favorite The Tarik (tea) to out Indian drinks like lassi. Aj had sweet lime soda and I just had ice cold water. They do have other range of drinks like coctails, mocktails beer & wine menu too.
For Main course, we were served with their best Cheese naan which goes well among their customers. It was really soft with cheese melted inside to fill in between.
Went well with their paneer butter masala. Even after it became cold. Cost : SGD 6.00 (Paneer butter masala to be ordered separately) They do have other naan varieties and tandoori Roti too in their bread section.
Next we tasted their Veg. Biryani which they recently introduced after Chef Damu's visit for the vegetarians. It comes with a veg kurma gravy as side dish along with a papad, raita too.
🍱 Set meals
Aj had it, while I had the vegetarian set meal (Saiva saapadu) which I loved. The sambar was flavour ful, so was the rasam and the veggies served along. Nothing was less tasty to omit.
This meal includes Roti, rice, Sambar, rasam, a vegetable gravy based (kurma), Curry, poriyal, papad, pickle, curd and a sweet too. Cost : SGD. 9.80
There is also a mini meal kind, which is called banana leaf basics. Comprises rice, papad and two veggies. We can order other gravy which we can choose separately. Cost: SGD.4.80
By now we were totally full and could not have dessert offered by them, which was kesari and Coconut ice cream. Coconut Ice cream is their specialty and super hit dessert, I was told, but I was too full to even taste.
They packed me the kesari for me, which was loaded with
ghee and nuts. Thank you so much First gourmet team for your hospitality and making it so comfortable for me when I visited your restaurant.
⭕ Ambience
The restaurant looks pleasant with it's interiors, love their conceptual banana leaf shaped plate too.
Though non vegetarian options are more comparatively, they do have an appealing vegetarian menu too. Weekends are too busy for them so recommend to reserve a table to avoid disappointments, but you can always try your luck if you happen to walk in to Jurong point mall and even roam around the big mall after your meal.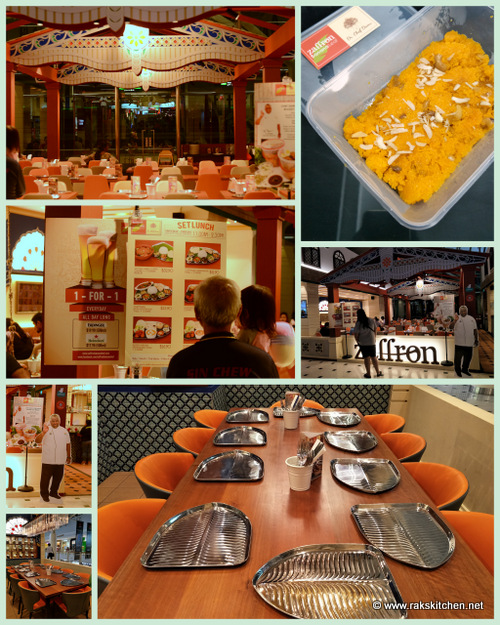 Check out my lunch menu ideas page for cooking inspiration.