When I wanted to post Karuveppilai Podi, I came to know that even karuveppilai chutney also can be made. So tried making it last week with idli and it was really good. I love this chuntey for its health benefits of curry leaves. Its easy like making coconut chutney … SO make this often for your family as its very good for your health.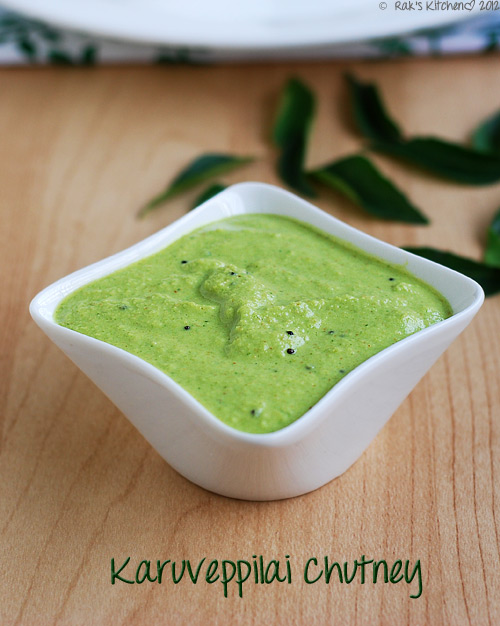 Curry leaves chutney recipe
Recipe Cuisine:
Indian
|
Recipe Category:
Breakfast- sides
Prep Time
:
15 mins
|
Cook time: 10 mins
|
Serves
:
4
Ingredients
Coconut, scrapped – 1/2 cup
---
Urad dal – 1 tblsp
---
Curry leaves – 2 sprigs
---
Green chillies (or red) – 6
---
Tamarind – 1/8 tsp
---
Turmeric – 1/8 tsp
---
Salt and water – As needed
---
To temper
Oil – 2 tsp
---
Mustard – 3/4 tsp
---
Method
Roast urad dal in 1/2 tsp until golden brown. Add curry leaves, fry green chillies and asafoetida after urad dal gets roasted. Grind urad dal, turmeric, asafoetida, coconut, tamarind along with salt and water until smooth.
Notes
Adding turmeric gives a cool green colour. I use milk while grinding if the coconut is not fresh, that also adds for getting this cool green. Try this for any green chutney.
You can replace urad dal with channa dal and green chilli with red chilli too…
Season with mustard and mix well. Serve with Idli/ dosa or upma.