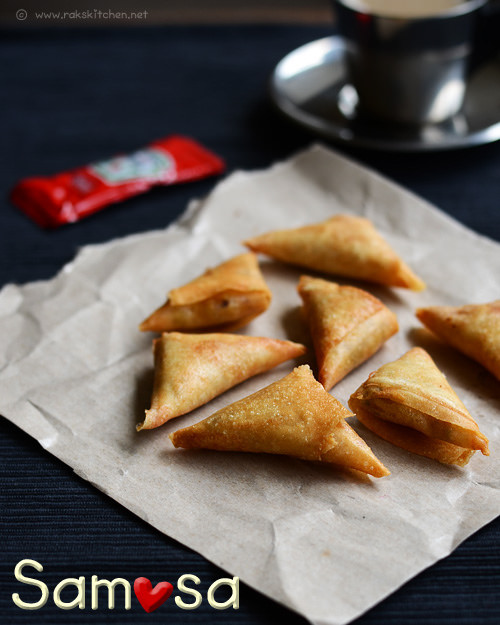 I had long time wish to try this mini
samosa
(or samsa as we call it). I have seen here in Fairprice, frozen mini samosas. Its tiny and looks very pretty too. Aj also loves it as he had tried it as starters in parties. I have tried making it sometime back, but could not get it look good, so left it for a while. Now again recently Aj wanted me to try at home and I promised him I will make it on a weekend. I tried last Sunday and it came out good. So I thought of sharing it here. It's very easy, tasty, crispy and perfect for get together and parties as starter.
I made this with the spring roll pastry sheets. Its different from puff pastry sheets, so don't confuse with it. This is very thin sheets, specially meant for making spring rolls and samosas. I came to know it is now a days available in Chennai in Nuts N Spices as a pack of 20 sheets (Info Courtesy : Aparna Rajeskumar). So you can check in the frozen section. Also if any of you know if it's available anywhere in your part of area, please help others by leaving comment in the comments section about where you have got it or seen it.
How to fold samosa video:
Mini samosa recipe
Recipe Cuisine: Indian | Recipe Category: Snack
Prep Time: 30 mins | Cook time: 20 mins | Makes: 30 | Author: Raks anand
Learn how to make crispy mini samosa or triangle samosa with spicy potato stuffing, using spring roll pastry sheets. With helping video.

Ingredients
Potato, Large – 2
Onion – 1
Sambar powder/ red chilli powder – 1 tsp
Garam masala powder – ¼ tsp
Fennel seeds powder – ¼ tsp
Turmeric powder – ⅛ tsp
Amchur powder / Chaat masala (Optional) – ¼ tsp
Salt – As needed
Oil – 2 tsp
Jeera/ cumin seeds – 1 tsp
Coriander leaves, chopped – 2 tbsp
Spring roll pastry sheets (Large size) – 8
Maida – 2 tbsp
Method
Keep pastry sheet at room temperature 30 mins prior preparing the samosa. Boil and peel potatoes. Heat kadai with oil and temper with jeera.

Add finely chopped onion, followed by the cooked,mashed potatoes. Add the all the masala powders in the ingredients, with salt and sprinkle a tbsp of water.

Mix well and fry for 2 minutes in medium flame, lastly add coriander leaves, mix well.

Transfer to the serving bowl. Mix Maida with water to make it a paste. Keep all the ingredients ready.

By now the sheets would have been ready for preparing. Peel off one by one carefully. Keep covered with clean wet kitchen cloth to keep it damp and avoid drying as instructed in the pack.

Cut each sheet to 4 equal sized strips as shown in the picture. Spoon a tsp of the prepared potato masala in each strip, over the top.Fold as shown in the picture into triangle samosas. Refer video to learn in detail how to fold it. Towards the end spread little maida paste and end sticking the samosa.

Keep the prepared samosas covered as well, preferable with wet kitchen cloth for this too. If you do not have spring roll pastry sheets, you can do the same with maida. Make a stiff dough with 1 cup maida, a tbsp of oil, salt and water. Keep aside for an hour, knead and make equal sized balls. Roll as thin as possible and cut into square. Use oil half way while rolling in one side to make rolling easy without getting shrunken.

Do not make this long (large) as if you fold lot, it won't get cooked inside and will become chewy. Follow the same procedure as above and fold to triangles. But make the strips shorter.

Once everything is folded, heat oil and deep fry both sides in medium flame.

Once golden in colour, drain in paper towels. You can see both the pastry sheet samosas and the maida dough samosas.
Notes
It may seem tedious, but its not, easier than making spring rolls.
If you do not have fennel powder, instead of tempering with jeera, temper with fennel. Or just skip it and add more garam masala powder.
Maida paste should be smooth and should be able to keep the samosas sealed. If its too thick then the sticking part will not look smooth, if its too water, it wont stick.
This post mainly to show how to use pastry sheets for making samosas, so I have not concentrated over making it from scratch with maida dough. The spring roll pastry sheets gives the maximum, crispiest samosa.
You can use any filling of your choice. Like you can make stuffing only with sliced onions.
You can make the samosas and freeze it before frying. If you have to make tomorrow, make it today and freeze it. Keep out 30 mins before deep frying and fry as mentioned to save time.
Serve hot with coffee/ tea and sweet tomato chilli sauce as side dish. Delicious!