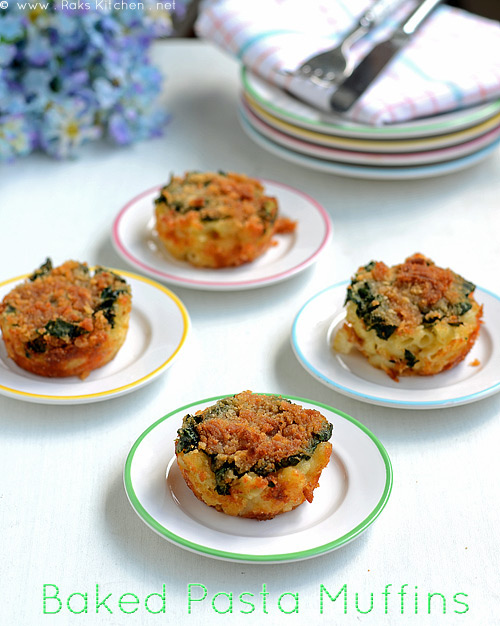 Some recipes just push us to try it out immediately. This baked pasta muffins or Baked macaroni and cheese cupcakes is one such recipe, which just gave me so much energy to try it out immediately when I watched Giada's show in Food Network channel. She made this along with kids and the show was really enjoyable and cute with the kids. Obviously Aj too was tempted and wanted to make it. So you can see him making in the stepwise pictures😎. So this is fun and easy enough for your kids too to try. Do let them make when they are at home in holidays. They will sure enjoy making and enjoy eating this delicious pasta, also they will be super proud that they made it 🙂
Pasta muffin recipe
Recipe Cuisine:
Indian
|
Recipe Category:
Snack
Prep Time
:
20 mins
|
Cook time: 15 mins
|
Makes
:
8
Ingredients
Small macaroni pasta - ½ cup
---
Grated mozzarella - ¼ – ½ cup
---
Grated parmesan - 2 tblsp
---
Bread crumbs - ¼ cup
---
Olive oil - 3 tblsp
---
Chopped vegetables - As needed for topping
---
Salt - As needed
---
Any Italian herb - 1 tsp
---
Chilli flakes (optional) - 1 tsp
---
Method
Cook pasta as per package instructions with salt. Drain and keep aside. After cooled down, mix with grated mozzarella. Preheat oven at 190 deg. C. Grease a muffin pan with olive oil. Dust it with bread crumbs generously. Tap off the excess crumbs. Fill with the pasta/cheese mix.
Top with the vegetables of your choice. I used broccoli, spinach(both blanched) and onion,tomato and capsicum. I used broccoli in 2, spinach in 2 separately and onion tomato capsicum together in 2 muffins. Top again with mozzarella if you want, or just with the parmesan.
Then sprinkle bread crumbs evenly over every muffin and drizzle some olive oil over it.
Bake this for 15 – 18 minutes or until a golden crust is formed. Cool down for 4 minutes and spoon out each one carefully.
Notes
I have made this 2-3 times and the first time I dint dust the muffin pan initially with bread crumbs (when I clicked these stepwise pictures). Then realized its necessary for a nice crusty layer that helps in holding the shape too. So don't skip that step.
You can mix as less as ¼ cup cheese with the pasta. This cheese also helps in binding the pasta together and hold its shape.
Me and Aj liked every topping in this. But you can use your favourite vegetable for topping that you think will go well in this recipe.
I blanched broccoli and spinach in the same water I boiled the pasta.
Depending upon the oven model, the baking time may vary. So bake until you get a crusty golden coloured top.
Your kids or even you would love to dig in this one. Great snack time treat! You can sprinkle over the chilli flakes if you want it spicy.