Quick and easy lunch idea with south Indian mor kuzhambu and vendakkai curry. This menu is just an idea as a part of my lunch menu series, where I just share the idea. Please check individual links for recipe.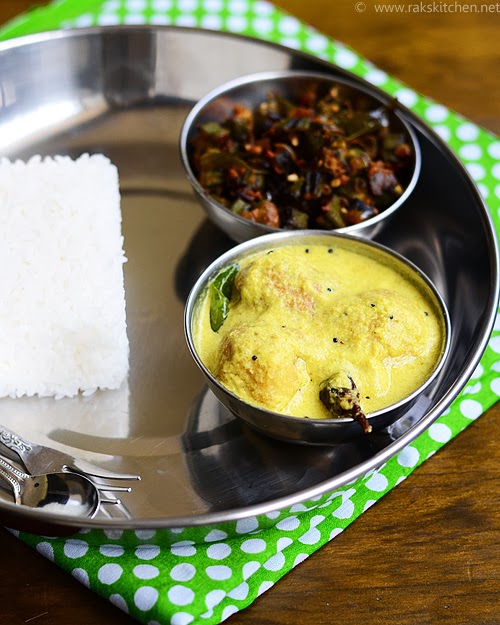 It looks as if within a glimpse, one week is gone and its time to post my next lunch menu too 🙂
I did not plan anything to be honest and I decided to make my work simple yet something special for the weekend.
So chose it to be mor kuzhambu with vadai and ladies finger curry.
Mor kuzhambu is very easy to make, only work is ladies finger curry and the vada.
That too, we are gonna make only as bondas, so no need to worry about the shapes 😉
Here is the simple lunch menu for this weekend.
Instructions
South Indian lunch- mor kuzhambu with vadai, ladies finger curry
Recipe Cuisine: Indian | Recipe Category: Lunch
Prep Time: 3 Hrs soaking time | Cook time: 45 mins | Serves: 3
Soak for vada 3 hours ahead grinding it. You can grind and keep it first in fridge when you enter kitchen for making lunch.
Pressure cook rice. As it is getting cooked, clean cut ladies finger and keep frying it with oil side by side,meanwhile which you can chop onion and tomatoes for curry, grate coconut.
Gather all other ingredients for grinding for mor kuzhambu and other ingredients. Beat curd (let curd be sour or else vada will make it bland) and grind for mor kuzhambu and mix with the curd and keep aside.
Now when the ladies finger is ready, temper for mor kuzhambu and transfer to the serving bowl. Prepare ladies finger curry.
Lastly fry vada and side by side prepare mor kuzhambu and dunk the vadas in the kuzhambu.
I recommend to take out and keep the vadas in another vessel after 30 mins or after it gets soaked well. This way it will be easy to serve and avoid kuzhambu getting too thick.
An hearty menu with rice, mor kuzhambu with vadai and ladies finger curry for the whole family!
Recipe links
Check out the recipes
Other vegetables which can be added in mor kuzhambu are cooked ash gourd, ladies finger, brinjal, chow chow, arbi/ seppenkizhangu, or may be paruppu urundai too etc.
Other side dishes apt for mor kuzhambu are - Paruppu usili, potato curry. Have a great weekend! 🙂