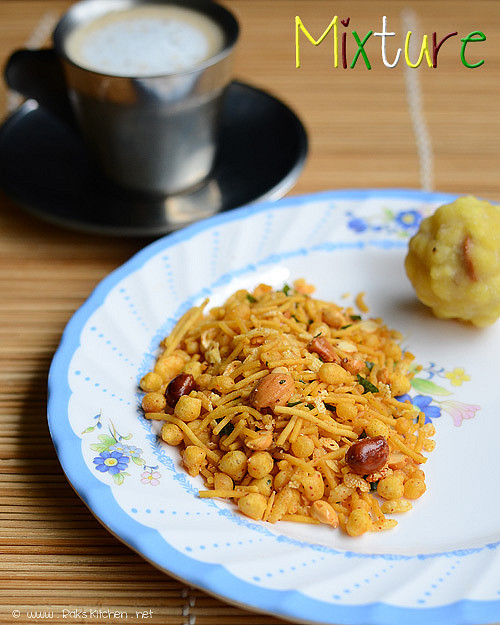 (Madras style mixture) – Mixture is the only snack I have eaten the most when I was a kid. That's because, my dad used to buy this always. My mom hates this snack just because it has been always bought by my dad. But she never told that to my dad. May be until now too. Me too not a big fan of mixture, but its okay kind for me. But until my grand mom was there, we used to make this for Diwali. Its a great idea to make mixture for Diwali, because, it gives so much volume so that we can give it to others. Also we will be making kara boondi, omapodi anyways, so its easy to mix everything and add some fried items to it and make mixture.
Those days, my mom used to start making Diwali snacks a week ahead and make so much in quantity. She will be storing all the snacks in tins and big containers (thooku vaali) and give everything little by little in evening time for the whole family. I have never seen her buying snacks or sweets from shops, everything strictly home made.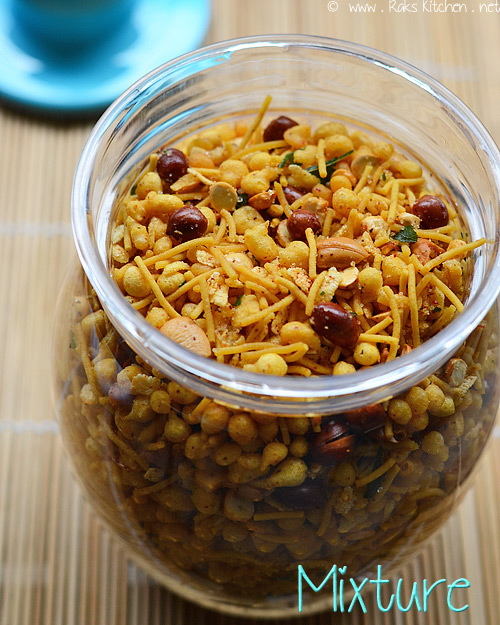 Though mixture is a mixture, I like to pick and eat the ingredients in it separately. Its fun for me. I love the sweet diamond maida biscuits in it very much. But sadly I have not tried making it so far at home, so have not added in this recipe. In spite of this spicy mixture, I love sweet mixture very very much. The one which looks also similar to this mixture, but sweet. Even in this south Indian mixture recipe, my special ingredient is a bit of sugar, which I add lastly and toss.
Mixture recipe
Recipe Cuisine:
Indian
|
Recipe Category:
Snack
Prep Time
:
15 mins
|
Cook time: 40 mins
|
Makes
:
3
Cups approx.
Ingredients
Omapodi – 1 & ½ cup
---
Kara boondi – 1 & ½ cup
---
Peanuts – ¼ cup
---
Fried gram dal – ¼ cup
---
Cashew nuts – 12 – 15
---
Poha/ aval – ½ cup
---
Curry leaves – 2 sprig
---
Salt – ½ tsp
---
Red chilli powder – 1 tsp
---
Sugar – ½ tsp
---
Ghee – 3 tblsp
---
Asafoetida – ⅛ tsp
---
Method
Prepare Oma podi and Kara boondi as in the respective recipes. In my kara boondi, I have added optional garnish of black pepper, crushed garlic and curry leaves. Just avoid that. Also salt can be little less as we are using salt while tossing the mixture. Heat ghee or oil in a pan and fry cashews broken first.

Then Peanuts and fried gram dal. Fry everything in medium flame with constant stirring for even cooking. Peanuts should be fried until it pops. Take care not to burn as you can see properly as its with skin. Even you can use skin less peanuts.

Add curry leaves along any nut lastly and fry aval finally. You may need more oil or ghee for this, but you can do in 2 batches too. Transfer all the fried items to a mixing bowl and add salt, red chilli powder and asafoetida to it. Toss.

Add kara boondi and broken omapodi and toss gently. When cooled down completely, add sugar and mix well. Transfer to airtight container.
Notes
Other ingredients that can be added to mixture – Kara sev, broken mururkku, maida biscuits, ola pakoda, thattai broken, badam, fried channa dal, Chat masala, black salt etc.
I used 1 cup besan for making boondi and 1 cup besan + ½ cup rice flour for making omapodi/ sev. But saved some for boondi raita and saved some omapodi as such for my kid and used only 1 cup each as mentioned in quantity for this mixture.
I used thin aval (flattened rice/ poha). I first tossed aval, nuts, curry leaves with red chilli powder, asafoetida and salt and then only added the omapodi and sev.
Always store in airtight container. Stays good for a week at shelf.
The classic combo – mixture, sweet and filter coffee. And that boondi ladoo is my next post 🙂