This is my 50th
Lunch Menu
post!! Feeling so content and proud to post this and really enjoyed doing this series. I sometimes open my blog and see all the lunch menus I have posted so far and pat my back myself. Gives me a good boost for posting more. I won't stop posting this series with this 50th, will continue posting more ideas, bit different. Will try to concentrate more healthy and balanced meals. Any ideas, please feel free to let me know. I hope I have inspired few of you too, I could see it through your pictures you send to me for my Tried & tasted album in my Facebook page. I had in my mind to post an elaborate lunch menu, but sorry could not. I even thought I will push this post to next week, but still cant wait to make my lunch menu series strike 50. I already posted a
Biryani meal
, but again here posting this for this 50th menu along with a sweet to make it special. I went for vegetable shopping morning to get cauliflower, but sadly it wasn't in stock. Otherwise I thought I will add
gobi 65
to this menu.
Vegetable biryani, curd rice, rasmalai – Lunch menu 50
Recipe Cuisine: Indian | Recipe Category: Lunch
Prep Time: 30 mins | Cook time: 1 hr | Serves: 4
Rasmalai can be prepared the before day and kept refrigerated. But I prepared it today after my breakfast works and kept in the fridge. I made it from scratch, that is made rasgulla and then made it as rasmalai.
Soak rice for biryani and pressure cook rice for curd rice.
Finish chopping veggies for biryani. Lastly slice onion for both biryani and raita.
Chop tomato and keep all the other ingredients like garlic, ginger, chilli, mint, coriander ready.
First prepare for biryani and when it is simmered for cooking, prepare curd rice and raita.
Serve with the chilled rasmalai as dessert.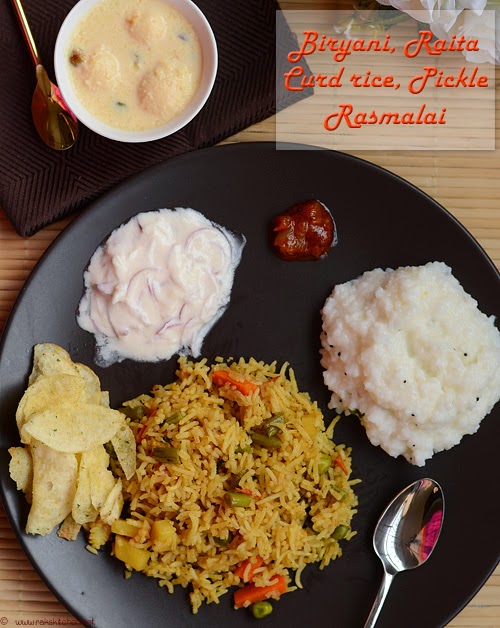 Check out the recipes. I followed my soya chunks biryani recipe method for today's biryani, so linking that too.
Hope you all had a nice weekend, will kick start the week with my posts from next week, regularly.