South Indian brunch ideas with Uthappam, vada, podi idli, paniyarams, payasam and chutneys. This post is a part of my Breakfast menu series.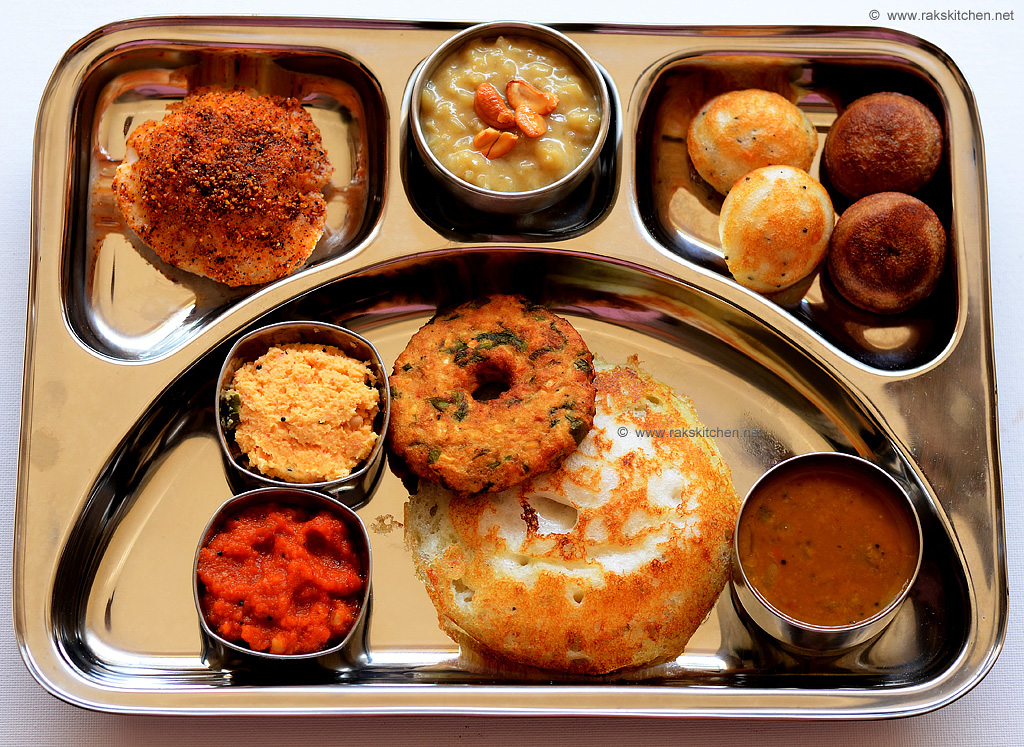 Jump to:
Podi idli, plain utappam, sweet and savory kuzhi paniyaram, keera vadai, arisi paruppu payasam, sambar, coconut chutney and red chutney.
I remembered something when I made this brunch. My mom had a brass plate that is called as "otrai idli thattu"  which means single idli plate which is a tiffin plate size, slightly shallow with holes in it.
So we have to use a cloth to line it and pour batter to it, steam like a regular idli. I have had many times excitingly without saying. Most of the time I would not finish though.
Now I can eat 2 such idlis easily and wish I had that idli plate. It is something similar to the thatte idli, except this one is not flat, but shallow and just a bigger variation of our regular idli.
So basically this is just to say, how many variations we can make with this single idli dosa batter. To name few, good old regular idli, podi idli, cocktail idli, thalippu idli, kaima idli, chutney idli, idli upma and many more.
Plain dosa, masala dosas, beetroot dosa, onion uttapam, plain uttapam made in kadai as you see in this post, kuzhi paniyaram  and the list goes on with your creativity.
Inspiration
This post made after I got tempted by a photo that I saw in zomato under a restaurant review. The first thing I got tempted was the plain uttapam. Next is keerai vadai.
Otherwise I changed the menu according to my convenience. I made this spread this Friday, with vadai payasam special for Aadi friday.
This post is just an idea for making an elaborate brunch, if you want to make it for some special occasion.
Otherwise, you can take this as an idea and reduce the items according to your convenience. If you want to make this exact menu, note down the things that you can prepare and keep it ready in before hand to reduce your work.
Recipe links
This is just an idea on how I prepared this menu. For detailed individual recipes, please check the links below.
1. Idli recipe
Idli is a very versatile and one of the staples in most of the south Indian (Tamil) households. It is steamed, with carbohydrates to provide the energy to kick start the day, protein from urad dal and it is fermented food. Check out the recipe below.
2. Idli podi  
Idli podi is a make ahead condiment, with idli dosa it makes a killer combo. You can toss in idlis to make podi idli or sprinkle the magic over dosa to make podi dosai or uthappam as well. Check the recipe below.
3. Paniyaram
I made savory version using the same batter as above in idli dosa batter and the sweet version is pretty new in my website using healthier sweetener karuppati. But check the other interesting millet batter paniyaram recipe below.
I have two version, one with moong dal and the other one is with toor dal. I love toor dal sambar the best with idli dosa. Recipe below for you not to miss it.
Simple and humble plain coconut chutney. Can a breakfast or brunch be without this? Check out recipe for coconut chutney with loads of variation suggestions.
A quick to whip up chutney recipe ready under 15 mins. It is also quite popular with many of us for it's taste. Recipe below if you are intersted.
7. Arisi paruppu payasam recipe
One of my most favorite traditional payasam recipe prepared with jaggery and a dash of coconut milk. It is so flavorful and rich. Check the recipe below and make it to try yourself.
Keera vadai is a tempting snack made with dal and Indian spinach. I made a different version with I have mentioned in the post but check my other keerai vadai recipe.
Check out other chutney recipes
Also you may like kesari, paal kesari, fruit kesari, semiya kesari, aval kesari
Check out medhu vadai, masala vadai
Method
Idli dosa batter can be prepared a day or two days ahead and kept in fridge. With this batter, we can make idli, plain uttapam and kuzhi paniyaram savory with the same batter. I had idli dosa batter with me.
Same with sweet paniyaram batter, you can prepare a day ahead and keep refrigerated. I prepared the paniyaram batter the before day itself.
Prepare keerai vadai by soaking urad dal just for an hour and grinding it coarsely without water. So soak it before you start all the other process for this brunch.
This can be done the day before and keep refrigerated.
Roast and pressure cook rice, dal for payasam in one container of the pressure cooker and dal for sambar in another container. (I keep tamarind also inside a small bowl in middle of dal for easy extraction of tamarind juice).
Clean keerai and chop it (can be made ahead before day), scrap coconut (I had it frozen),
Cut onion for red chutney, sambar, tomato and vegetables for sambar. Keep the other ingredients like coriander leaves, green chilli ready.
Grind coconut, extract little milk for payasam and prepare coconut and red chutneys. Keep aside.
Extract tamarind juice for sambar. Powder jaggery, cardamom for payasam and finish payasam.
Now to stove work for tempering. In ghee, roast some cashews for payasam and garnish it.
Temper chutneys and then sambar. Finish making sambar.
Prepare keera vadai.
Lastly make idli, kuzhi paniyarams and plain uttapam hot. Just one each and couple of paniyarams will do, as it will be filling.
Coat the idli with sesame oil and idli podi mix and serve it. Arrange idli, keerai vadai, paniyarams, payasam and the side dishes. Finally keep hot uttapams and serve.
I made this keerai vadai, slightly different from the one I posted. This one is inspired from Chef Venkatesh Bhat's keerai vadai. That is I just soaked for an hour, ground really coarsely and added keerai, pepper, asafoetida and salt.
Made thinly over a ziploc cover and fried in oil.
I made savory paniyaram with the idli dosa batter simply with mustard, urad dal, curry leaves and a dash of asafoetida. You can check my masala paniyaram if interested.
Sweet paniyaram is karuppatti paniyaram, which I will post coming Wednesday.
I made my plain uttapams in my new iron kadai, which turned out super crispy, golden and tasty!